Two books have been written on the History of Kenilworth RFC, these being:
Kenilworth RFC Jubilee, 1924-74
Black and Blue: The History of Kenilworth Rugby Football CLub, 1924-2002 : Mick Wheatley
Both of these publications are available from president@kenilworthrugby.co.uk
READ ALL ABOUT OUR SUCCESSFUL 18/19 SEASON  
 HERE
READ ALL ABOUT OUR INTERMEDIATE CUP WIN  HERE
KENILWORTH RFC: HONOURING THE FALLEN - READ THE ARTICLE  HERE
READ THE ARTICLE ON JACOB UMAGA HERE
READ THE ARTICLE ON NICK COLLETT HERE
Kenilworth Rugby Football Club - The History
Kenilworth Rugby Football Club was founded in 1924 and after a nomadic existence around Kenilworth finally moved to our current ground in Glasshouse Lane, Kenilworth in 1947.
Chris Wheatley in action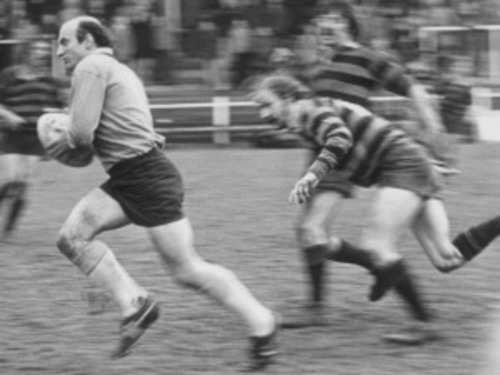 The club were always deemed to be a strong "town" side and early fixtures were predominantly against similar "town sides" who now generally reside in the National Leagues. The 'town' fixture list was taken to the extreme when a fixture was offered against Cardiff 2nds at the Arms Park in return for the hospitality offered to them following their visit to Kenilworth after a game at Coventry, but the fixture was turned down, with our reply being "we only play town sides!"
In the late 80s and 90s, the club was in serious decline and a bold decision was taken to appoint Steve Brain, the ex-England International hooker, as player/coach in an attempt to restore the club to its former glories. A mission statement was formed "to make Kenilworth RFC the most successful Junior Club in Warwickshire by the year 2000." The subsequent success both on and off the field was phenomenal and Kenilworth were promoted consistently over a seven year period to reside in Level 5, Midlands 1 Division, which was only one level below National League, the ultimate aim.
 Midlands 1 (level 5) status was retained until 02/03 when a poor season, with only five wins resulted in relegation back to Midlands 2. It took Kenilworth four years to return to Midlands 1 and this they did in style, as champions in 06/07, under the guidance of coach Ian Ferguson and after a near miss in the play offs in the previous season. Season 08/09 saw the club's best ever finish in the league, just missing out on the play offs and finally ending a very credible fourth in Midlands 1. 
This good work was not extended into season 09/10 and the club finally finished mid-table but not before a fight against relegation, saving our place with a final day draw against Luctonians.
Disappointment continued into season 10/11 with relegation from National League 3, midlands, back to Midlands 1 west (level 6). This set back has prompted the club to re-think its structure and aims and a Future Strategy Group was formed in May 2011 to outline how the club was to return to the top level of junior rugby, and beyond. 
However, another disappointing season in M1W saw further relegation to level 7 (Mids 2 West South). Almost the same (young) squad then enjoyed a highly successful season in 12/13, suffering only two defeats and resulting in a championship win and a return to level 6.
Seasons 13/14, 14/15 and 15/16 were ones of consolidation at the higher level; however, a very poor 16/17 season, with the small squad hit by a lot of injuries, saw us relegated back to level 7.  Season 17/18 saw us finish in third spot behind two very good teams, Droitwich and Malvern.
The 18/19 season saw the appointment of Dave Ellis as Head Coach and his impact was incredible - winning Midlands 2 (West) by a record points total and capturing the Intermediate Cup at Twickenham with a 32-26 win over Matson. These exploits are documented
HERE
&
  HERE.
Season 19/20 was curtailed by the Co-vid pandemic, and saw us finish a creditable 2nd on our return to Midlands 1 (West), narrowly missing out on promotion to Midlands Premier due to the RFU system of instead elevating our counterparts from Midlands 1 East, who achieved a higher points total albeit in an arguably weaker league.
Season 20/21 saw the arrival of Phil Boulton as Head Coach, combining his playing duties with Coventry RFC, and Todd Freemantle, a highly-respected player and coach well known throughout Midlands rugby from his time with Rugby Lions, Coventry, Broadstreet and Earlsdon.
A full playing schedule was resumed for the 21/22 season, and we again finished in 2nd place behind rivals Lichfield RFC, finally gaining promotion back to Level 5 and the newly-structured Midlands Regional 1 (formerly known as Midlands Premier) for the 22/23 season.
The club currently own the lease on 18 acres of land (affectionately known as 'the Cow Patch') further down Glasshouse Lane and away from our current first team pitch and clubhouse. The club was successful in obtaining Lottery money which, together with funds raised by club members, was used to create and drain four brand new pitches, one with floodlights. The four pitches have been in use since September 2003. It was always the plan to sell the 1st XV pitch and clubhouse site and re-locate to the Cow Patch but now both of our sites have been released from the greenbelt and are now available for development. The club are now looking at a large new site within Kenilworth and current plans are that it will be developed and opened in August 2022. The plans for the new ground can be viewed  HERE  &  HERE .
A particular feature of the club is its very strong social side and the club bar has a full-time steward and is open six days of the week. In the past few years, the club has been very successful in attracting a number of Australians, New Zealanders and South Africans and these players have helped improve the status of Kenilworth RFC both on and off the field.
​In March 98 the club voted to become a limited company, primarily to relieve the Trustees of an unnecessary burden but also to streamline the running of the club into an efficient professional organisation.
The club also has a very successful Minis and Juniors Section which has provided a stream of players to our own and other senior sides. All levels are present throughout the minis and juniors section and this section has grown dramatically over the past few years and currently has around 350 playing members. The minis and juniors section achieved the RFU Seal of Approval in 2005 and in Nov 2012 this was extended to the whole club. A lot of hard work has recently been undertaken to combine the senior and minis & juniors elements of the club and this has now been achieved to the benefit of all.
The club run a large very successful "Former Players Association" started by the late Jack Davies and who meet regularly throughout the year at home and away pre match lunches. Details of this sub section can be obtained from Pete Boyle on 0780 1914 833. 
A big landmark in the history of Kenilworth RFC took place in 2015 when a Womens playing section was formed. After playing an initial season of non-league rugby, they promptly won their league in 16/17, 17/18 & 18/19 and now reside in level 2 of the National Womens structure in Championship 1 (North). In April 2018, they also reached the final of the RFU Intermediate Cup.