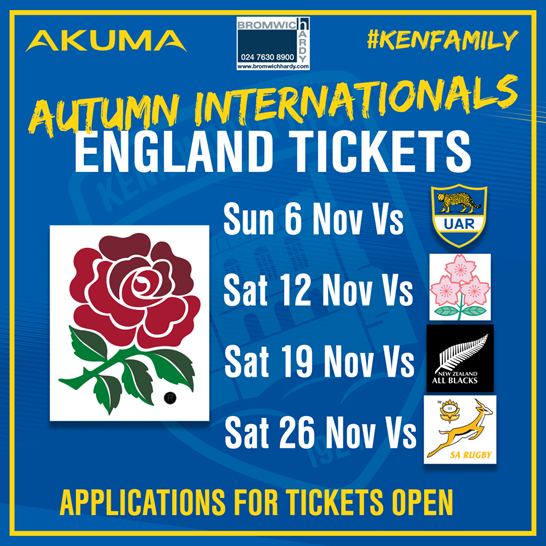 Applications for
England Rugby
November Internationals are now open!
Application for tickets (4 maximum for NZ & SA, no limit for Argentina or Japan) should be submitted to Willie Whitesmith no later than 31st May.
Please advise Willie by email (note new address: willie.whitesmith@gmail.com) with a note of your requirements, and then send a cheque for the total amount, made payable to Kenilworth RFC Ltd.
You can deposit this at our clubhouse bar, please mark the envelope 'For attention of Willie W)
If you wish to pay electronically then contact Willie W for the appropriate bank details.
The Club & RFU rules are such that only fully paid Members, VP Members and Life Members of the Club (for 21/22 Season) can apply for international tickets.
To simplify matters for all we only propose to sell two levels of tickets for each
game:
New Zealand - £132 (£28 junior) and £91 (£28 junior)
South Africa - £122 (£28 junior) and £70 (£28 junior)
Argentina - £106 (£28 junior) and £65 (£28 junior)
Japan - £70 (£23 junior) and £44 (£23 junior)
Junior tickets are 15 and under.
Please note these are the prices on the first allocation of tickets made by the
RFU and they rise by between 20 & 30% on the second batch made available.
Depending on demand we may need to go into the second allocation. Preference
is given to those who apply early. If you apply late then you may/will face the
increased ticket cost.
Willie Whitesmith
4 Glasshouse Lane
Kenilworth
CV8 2AJ
01926 859465 (home), 07715174723 (mob)
willie.whitesmith@gmail.com – please note this email address changed from previous years.