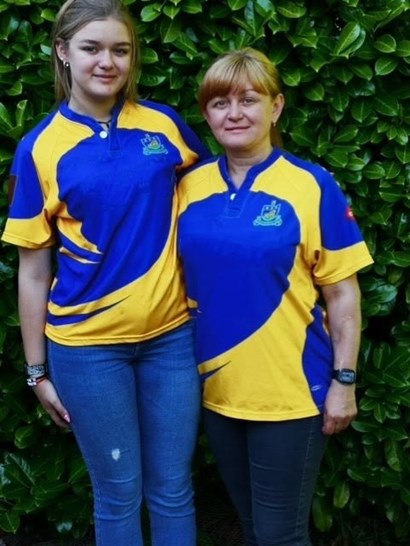 An unlikely union between the blue and yellow of Kenilworth Rugby Club was forged with the blue and yellow of war-torn Ukraine on a recent (and rather delayed!) St.David's Dinner, which took place at the club's Glasshouse Lane home.
The superb Tenovus Choir made the journey from Swansea, and were accompanied by the Bard of Glasshouse Lane himself, Lyndon Jeremiah, entertaining a joyous (and predominantly Celtic!) audience, amongst whom were two very special guests from the Ukraine; Dana and Roska.
Dana and Roska are both refugees from their home country and the atrocities currently taking place, with Dana's husband (Roska's father) still fighting in Eastern Ukraine.
They were made extremely welcome to the evening and presented with Kenilworth Rugby Club shirts, by happy coincidence matching the proud blue and yellow of the Ukrainian flag, with the evening raising well over £2,000 for Tenovus Cancer Care, 
a Welsh cancer charity that supports cancer patients and their families, funds cancer research and works to raise awareness of how to prevent cancer.
The Club are more than happy to welcome anyone, whether adults or children, seeking refuge from the war in Ukraine to join us free of charge for the use of our facilities, to exercise or just to socialise and meet new friends.